This ACEI / IStructE course is aimed at Graduate Engineers working in a Consulting Engineering firm, with a minimum of one year's work experience, to provide them with a structured, bespoke training programme to enhance their development and progression after graduation towards Chartered Engineer status.

The course is divided as follows:

Session One topics intend to improve the graduate consulting engineer's understanding of organisational, management, culture, project and technical issues that arise in the performance of their day to day duties. The Session One programme is available here.

Session Two focuses specifically on the practical aspects of design codes and construction methods, together with some relevant case studies. In this Session, the participants will be separated into either a Civil/Structural OR Mechanical/Electrical group.

Please note that, the Modules on 11th May and 22nd June will be delivered in person at Chartered Accountants House, Pearse Street, Dubin 2

Session One
11am - 4.30pm Wednesday 11th May 2022 - in person
11am - 4.30pm Wednesday 18th and 25 May 2022 - virtual

Session Two - Civil/Structural
11am - 4.30pm Wednesday 8th June and 15th 2022 - virtual
11am - 4.30pm Wednesday 22nd June 2022 - in person


Session Two - Mechanical/Electrical

11am - 4.30pm Wednesday 8th June and 15th 2022 - virtual
11am - 4.30pm Wednesday 22nd June 2022 - in person


Each delegate must complete and submit a written assignment to satisfy CPD requirements and obtain the course certificate of completion. Further details to be provided.

Qualified consulting engineering practitioners and others, expert in their respective fields, will present on a variety of topics in Session 1 & Session 2.

Session 1 includes: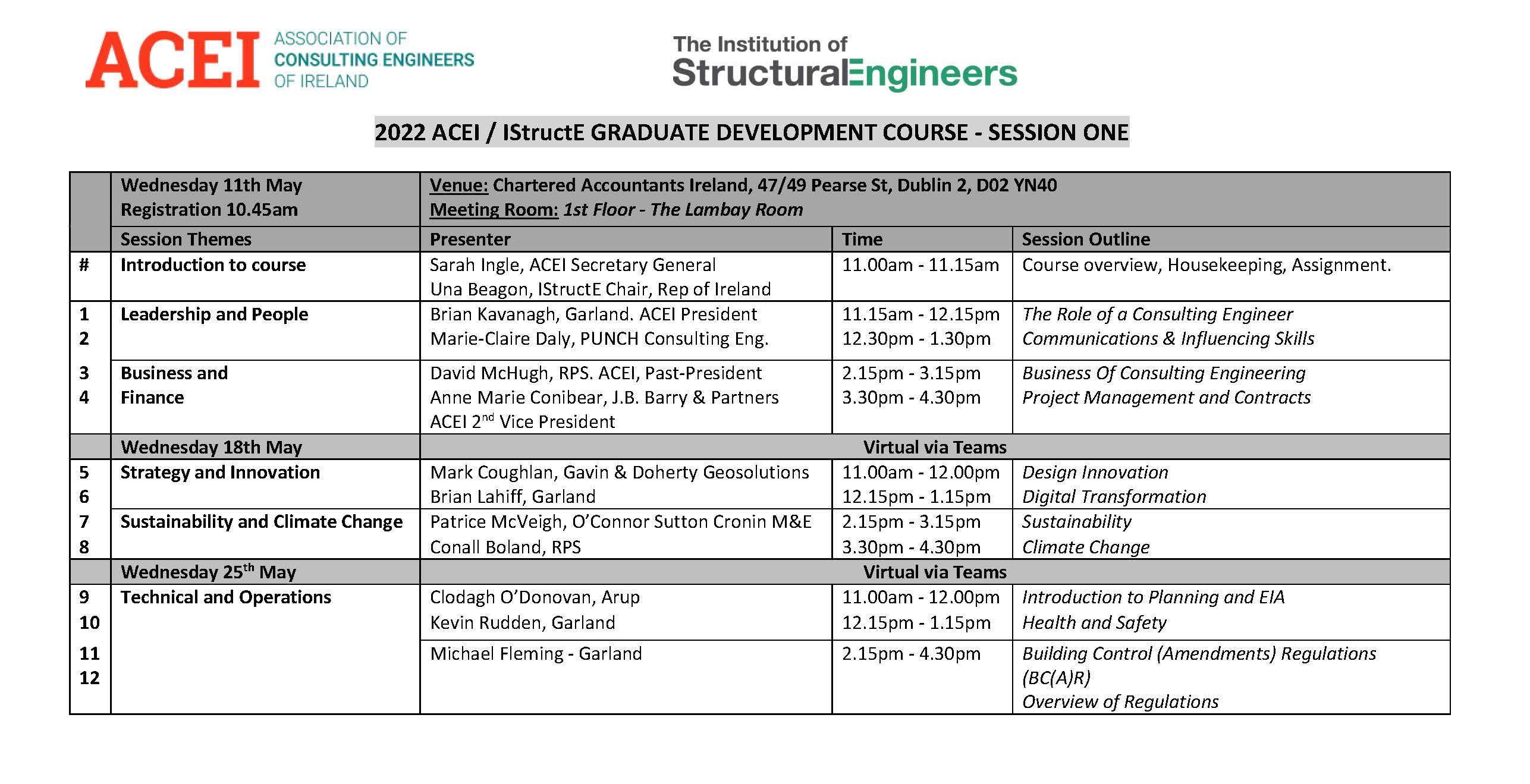 Session 2 – Civil & Structural will cover topics including:

Concrete
Masonry Design / Low Rise Construction
Steel Design and Detailing
Refurbishment/Conservation
Basements & Waterproofing
Geotechnics
Civil Engineering
Session 2 - Mechanical & Electrical will cover topics including:
Fire Detection and Alarm Systems

Emergency Lighting

Electrical Design

Sustainable design & Life Cycle Issues

Air Conditioning and Ventilation

BER Domestic & Commercial

Basics of HVAC Systems incl Plant Space and Distribution

Natural Refrigeration

Commercial Office Building Ventilation Design

LPHW/CHW & Water Services Designs (incl Legionella)

NzEB

System Design Certification and Risk Assessment
Note: Information on the course presenters will be provided soon. Some of the above topics may be subject to change nearer the time.

Cost
€750 - Staff of ACEI Member firm
€750 - IStructE member
€750 - Engineers Ireland Member
€850 - Non members


All bookings receive a 10% discount for 2 or 3 participants from one firm
All bookings receive a 15% discount for 4 or more bookings from one firm

Refreshments and lunch are included in the cost of the two in-person days.