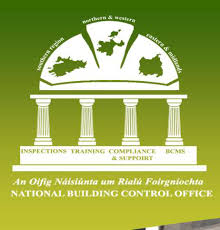 CPD – Day - New Part L ACDs 2021 & Thermal Modelling - For Non-Complex Buildings - 15th of September 2022 from 9:00 - 16:45

The NBC&MSO invite you to this free hybrid CPD Event on, New Part L ACDS and Thermal Modelling - For Non-Complex Buildings presented in conjunction with the Department of Housing, Local Government and Heritage, the SEAI, NSAI and Passivate. This event is of interest to Building Control Inspectors, Validators, Designers, Builders and Owners as part of the Education and Training programme of the NBC & MSO.

This event demonstrates the importance of Accredited Construction Details (ACDs) in showing compliance with Part L of the Building Regulations and The European Union (Energy Performance of Buildings) Regulations 2019 (S.I. No. 183 of 2019). The ACDs detail key junctions for non-complex buildings to reduce Thermal Bridges in Building Construction which has a direct benefit on the overall heat loss of building. ACDs should be encouraged throughout the Construction Industry as they will have significant impact on energy consumption and the health of occupants of the building during its lifespan (60+ years).

Examining Thermal Bridging and how ACDs demonstrate compliance of Part L, what a Y-Value (Thermal Bridging Factor) is, the requirement for Thermal Modelling of alternative junctions (and when this process should be commenced), the impact of ACDs on BERs, how Modern Method of Construction (MMC) are assessed for compliance with Part L (how Y-values are calculated for MMCs), how ACDs can reduce internal condensation risk - as well as what to look for in relation to compliance documents and what to inspect for during construction.

Further details and registration is here.