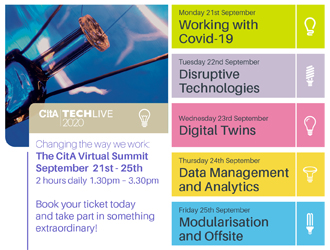 CitA Tech Live 2020 will be presented remotely due to continued restrictions on hosting conference gatherings. To that end, we have worked with a dedicated team of advisors to assemble a programme of talks from experts from across the globe on five transformational forces that will change the way we will work into the future in our industry.

Our speakers will help in providing an insight into how our industry is rapidly changing to one that will in the future be more inclusive, innovative and collaborative and supported by smart technologies.


We hope you can join use for 2 hours each day between 21st-25th September from 1.30pm - 3.30pm and take away inspirational messages that you can apply in your own work environment.

Further information and registration is available here.