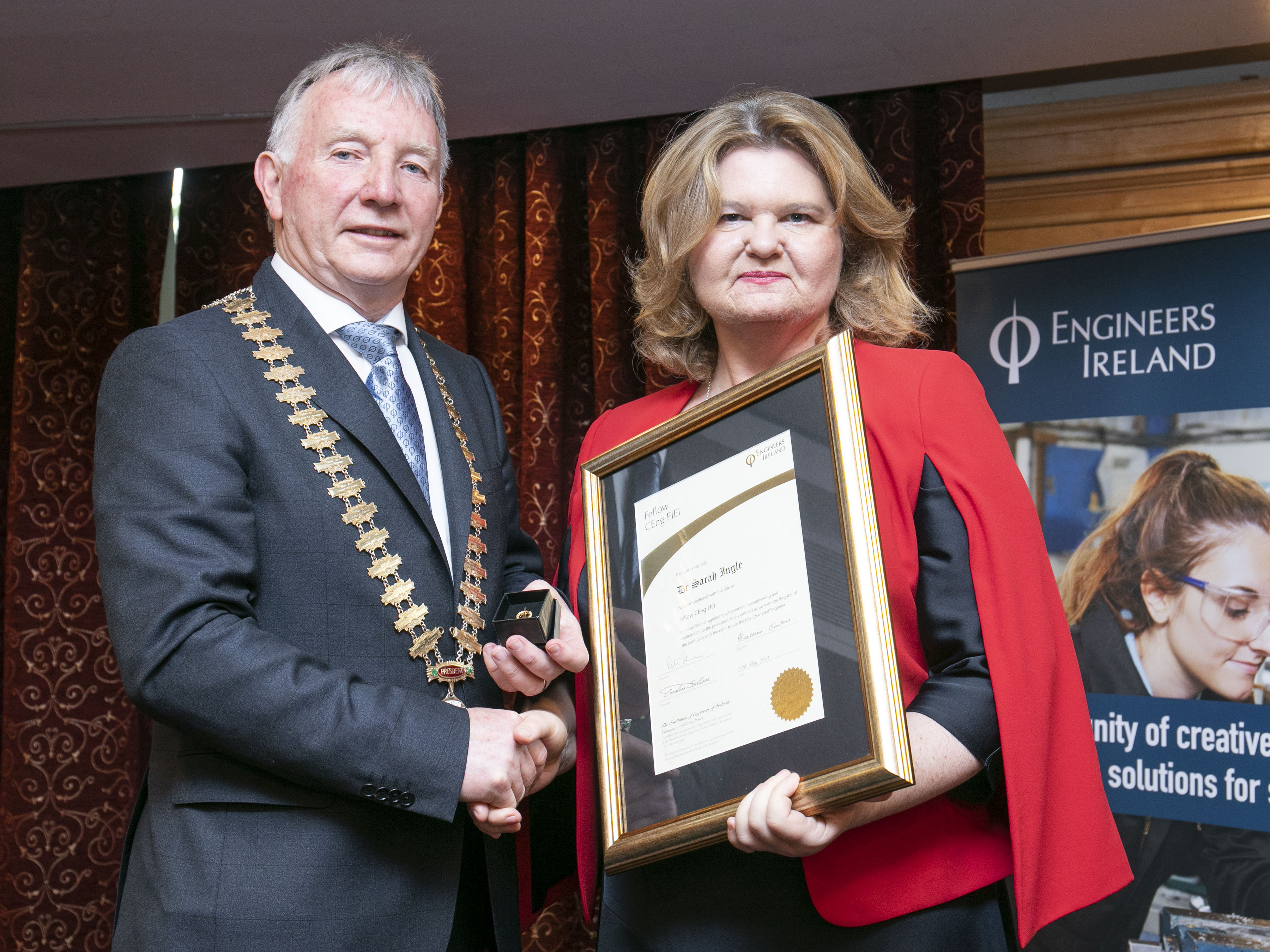 Pictured are Engineers Ireland President Peter Quinn and Sarah Ingle

ACEI is pleased to announce that ACEI Secretary General, Dr Sarah Ingle BSc(Eng), MIE, PhD, CEng, FIEI has been awarded a Fellowship of Engineers Ireland by Presidential Invitation. Eoghan Lynch of ACEI Member Firm Arup also received this prestigious award.


Eoghan Lynch graduated as a civil engineer from University College Cork in 1980 and then completed a Master's degree in Ocean Engineering at University College London in 1981. Eoghan worked in the offshore oil and gas industry in the UK and Norway before joining Arup in Cork in 1989. He has worked on the engineering and management of a number of energy infrastructure projects such as the Ballycotton Field development and Kinsale Head offshore gas compression project for Marathon Petroleum; the Beattock compressor station in Scotland and the Mayo-Galway pipeline for Bord Gáis. Eoghan was Group Leader of Arup in Ireland from 2011 until March 2018. He is currently Chairperson of Arup in Ireland as well as a Project Director working on energy and water projects.
Sarah Ingle received her engineering training in DIT Bolton Street (Production) and University College Dublin (Masters in Industrial Engineering). She has worked as a production engineer in several Irish multinationals including Fruit of the Loom, AT&T and Cabletron Systems.

Since her appointment in 2015 as ACEI Secretary General, Sarah has developed strategic relationships for consulting engineering at European and International levels. She was also elected by international peers to the Directors and Secretaries Advisory Council to the Board of FIDIC, the International Federation of Consulting Engineers. She represents ACEI at many national fora including the Construction Industry Council and the Construction Sector Group as well as being responsible for communication and liaison with public procurement bodies on behalf of ACEI Committees. Along with Engineers Ireland, in 2018/2019 Sarah was actively involved in promoting the consulting engineering profession by means of the Griffiths & Armour Consulting Engineering Bursary and the Irish Life & Lore Engineering Oral History Archive.
Sarah is the Chair of the Board of the Irish Fulbright Commission and was appointed to the Board by the Tánaiste and Minister of Foreign Affairs, Eamon Gilmore in 2015. She awarded with a Fulbright Scholarship in 2006 to Arizona State University and was elected President of the Irish Fulbright Alumni Association (IFAA) during 2013 – 2015.


Pictured from left to right: Caroline Spillane, Director General, Peter Quinn, President of Engineers Ireland and Sarah Ingle, Secretary General of ACEI

Sarah's most recent post before joining ACEI was in Dublin City University (DCU) where she undertook the senior management role of Director of Quality Promotion from 2010. Previously she was a Senior Lecturer in Entrepreneurship and Enterprise at DCU Business School having been awarded her PhD in 2000. Her doctoral research examined the introduction of World Class Manufacturing (WCM) and Total Quality Management (TQM) in the Irish automotive rubber mouldings component industry.

As Director of Quality Promotion in DCU, Sarah was responsible for the organisation and facilitation of statutory quality reviews for academic and support areas across DCU. She represented DCU nationally and internationally at quality related events and projects, including membership of the Irish Universities Association Quality Committee (IUAQC) and as an expert speaker at the European Quality Assurance Form (EQAF) and the European Academy. She has presented and published many papers in this field. Sarah was also the lead representative for DCU in an EU Tempus Project to assist West Balkan Universities in improving their quality assurance activities, and in 2014 was appointed as international reviewer by the Quality Assurance Agency (QAA) Scotland for the Scottish Enhancement Led Institutional Review (ELIR) programme.



Pictured (left to right) at Engineers Ireland National Conferring ceremony on 24 May 2019 are Fellows by Presidential Invitation and also two Honorary Fellows: Dr Amanda Gibney, Vice Principal for Teaching and Learning for the College of Engineering and Architecture at UCD; John Pentony, Managing Director of Jons Civil Engineering; Fr Peter McVerry, S.J. founder of the Peter McVerry Trust (Hon Fellow); Dr Sarah Ingle, Secretary General of the ACEI; Peter Quinn, President of Engineers Ireland; Pat Lucey, President of the Construction Industry Federation; Liam Henry, Chief Operating Officer of COLAS Ireland (Hon Fellow); Professor Su Taylor, Dean of Research for the Faculty of Engineering and Physical Science at Queen's University Belfast and Emer Murnaghan, Vice President of the Institution of Civil Engineers.