EFCA in workshop on Circular Approaches in the Construction Ecosystem
A workshop was held to support a study for the European Commission, on the application of circular approaches in the construction industry and the relevant measures that are required. Amongst other things, stakeholders considered a shortlist of indicators that could eventually be adopted. Sustainable Design Expert Wouter Schik from Arcadis, gave examples of circularity approaches used recently in the Netherlands and recommended thinking wider than just product or building level. Further information is available here.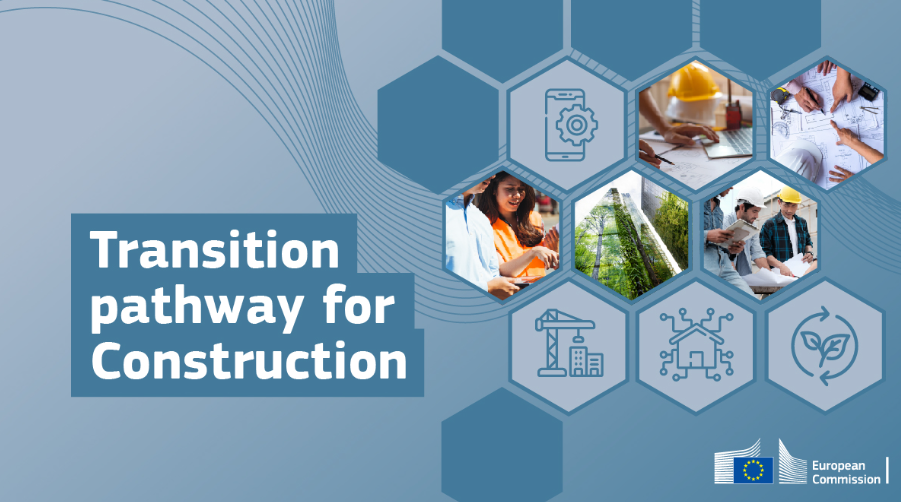 Publication of Transition Pathway for Construction
The European Commission's Directorate-General for Internal Market, Industry, Entrepreneurship and SMEs (DG GROW) has published the eagerly anticipated Transition Pathway for Construction. The EU Updated Industrial Strategy, from which this document originates, calls for a quick transition towards green and digital industrial ecosystems, with each sector required to develop specific and achieveable plans for transition. Construction is the second largest industrial ecosystem in the EU and employs over 25 million people. A key industry in the delivery of the EU Green Deal and the Digital Decade it faces various challenges from the aftermath of Covid-19, digital transformation and climate crisis. EFCA welcomes the document and will comment in more detail in due course. Further information is available here.



EFCA Future Leaders' Competition 2023 - Jury announced
EFCA Future Leaders' Competition 2023 is open to all professionals aged 35 and under working for member firms of EFCA national member associations. The competition aims to showcase the talent of Europe's next generation of leaders in the consulting engineering sector. This year, the jury will be chaired by former EFCA president Kevin Rudden (CEO of Garland), who will be joined by Marcin Mikulewicz (President of Management Board of Globtank) and last year's winner, Federico Foria (Geotechnics, Geology and Hydraulics Department Manager at ETS). With their expertise and experience, the jury members will assess the submitted projects based on various criteria, including technical achievements, leadership and social and community contributions. We are excited to see the incredible projects and achievements of the participants and look forward to recognising and celebrating the exceptional young talent within the consulting engineering sector. Further information is available here.


EP adopts revised EPBD
The European Parliament has voted on a proposed revision of the Energy Performance of Buildings Directive, which aims to substantially reduce greenhouse gas emissions and energy consumption in the EU building sector. The vote effectively approved the target for all new buildings to be zero-emission by 2028, with the deadline for new buildings occupied, operated or owned by public authorities in 2026. Member States will establish national renovation plans and support measures against energy poverty. Certain buildings will be excluded from the new rules, but MEPs have allowed Member States to adjust the new targets in a limited share of buildings depending on economic and technical feasibility and availability of skilled workforce. Further information is available here.