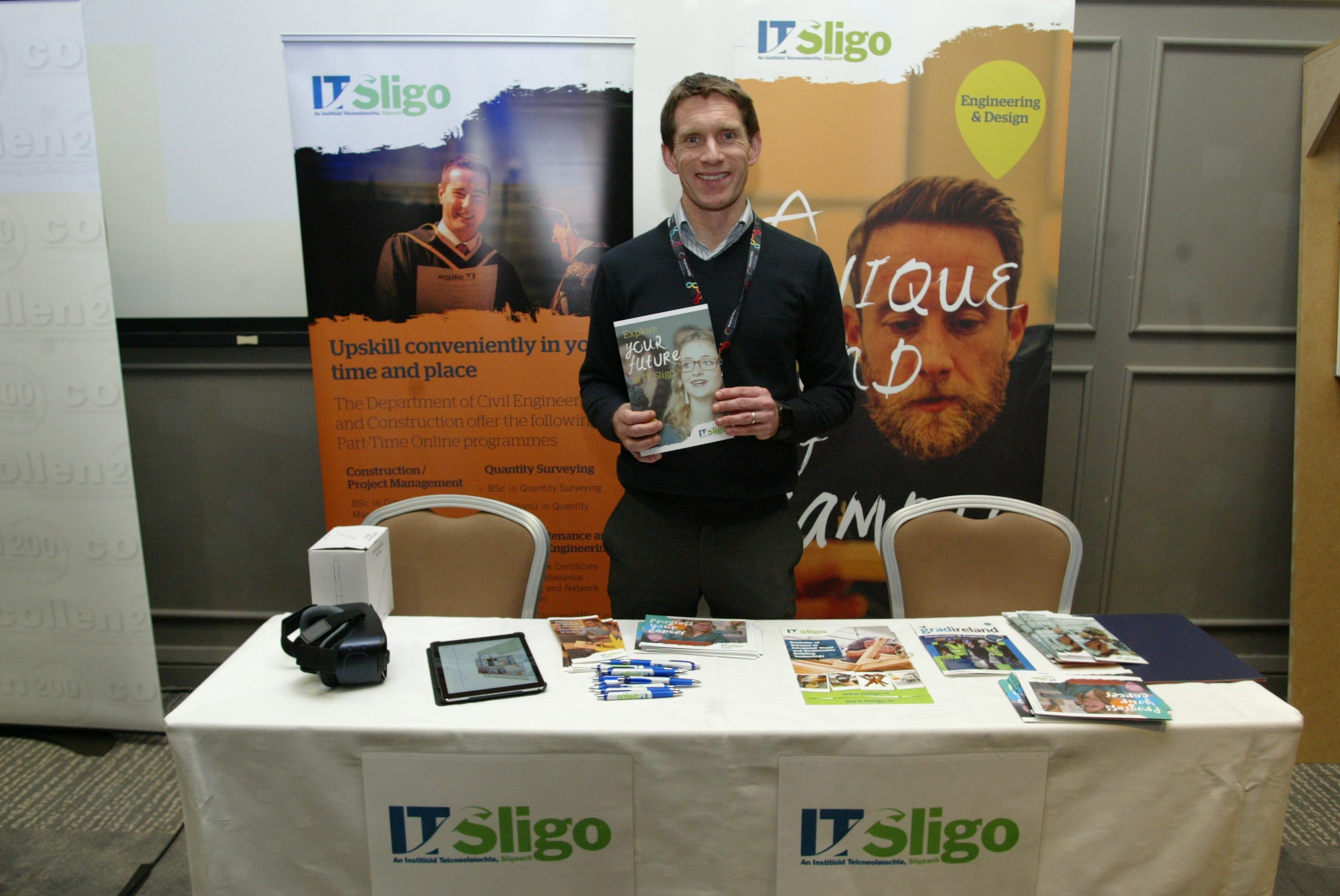 Trevor McSharry, Head of Department of Civil Engineering and Construction at recent IT Sligo exhibition .



A new IT Sligo course in project management has been nominated for a national Irish Construction Excellence (ICE) award.
The online part-time Master of Science in Project Management has been shortlisted in the Third Level Course-Post Graduate, Special Purpose or Distance Learning Category.


The new course which launched in September 2017, is the first online part-time course in Ireland in the area of construction project management.


The ICE Awards recognise and reward companies and institutions who strive to move the construction industry forward.
The awards ceremony takes place at a Gala Event on March 23 at the Mansion House, Dublin.


IT Sligo is a national leader in developing and delivering online education. Its department of Civil Engineering and Construction developed Ireland's largest portfolio of online part-time construction-related programmes and the MSc in Project Management is a continuation of its ground-breaking work.


Recognising the demand for skills in project management in the construction sector, IT Sligo's academic staff designed the course in conjunction with the college's ties with Construction IT Alliance (CitA), Lean Construction Ireland (LCI) and the Project Management Institute (PMI).


As a result of IT Sligo's relationship with these professional bodies, the programme incorporates the latest industry best practices including Building Information Modelling (BIM) and Lean Construction.


The course has been structured to incorporate the already successful Post Grad Certificate in Project Management as an embedded award, which has been running since 2012.


In addition, new construction-focused embedded Special Purpose Awards (SPAs) have been created such as the Post Grad Certificate in BIM and Lean Construction Management, Post Grad Certificate in Strategic Construction Management and Post Grad Certificate in Procurement, Law and Finance.


The MSc in Project Management (complete with embedded awards) is delivered fully online part time and has a national and international reach.