Minister Breen leads Enterprise Ireland client delegation to Digital Construction Week UK< back to news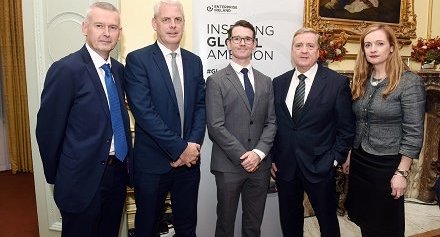 'UK Construction sector offers opportunities to Irish exporters', says Minister for Small Business

Pat Breen T.D. Minister for Trade, Employment, Business, EU Digital Single Market and Data Protection travelled to London on 17th October 2017 for a number of Trade-related events including the launch of Enterprise Ireland's Digital Construction Week UK.

Digital Construction Week is an event series for the entire built environment UK supply-chain including design, construction, engineering, management and operation and is taking place in London.

Kevin Rudden GARLAND CEO and EFCA President, attended a roundtable meeting with the Minister and industry leaders to explore about the opportunities arising in the digital construction sector. Minister Breen said, "The general view is that construction exports are under threat, but Digital Construction Week shows that there are also significant opportunities for innovative Irish companies in this rapidly growing segment of the built environment. The UK will continue to be a priority market for Irish construction, and the Government - through Enterprise Ireland - will continue to promote Irish capability in that sector".

Minister Breen also addressed the opening of Digital Construction Week where he was be joined by speaker David Philip, Head of the UK Government's BIM Working Group.

Enterprise Ireland will showcase six clients and their products and services on the Enterprise Ireland pavilion at the Digital Construction Show where they will encourage potential UK customers to source their 'Irish Advantage' in the digital construction sector.

Welcoming the Irish construction companies to the Digital Construction Week event Marina Donohoe, Enterprise Ireland Director UK and Northern Europe said; "The UK is the priority market for Irish construction companies specialising in digital and BIM, even more so since the Brexit referendum. Irish exports of construction products and services to the UK have increased by 68% over the past 5 years to €1.29Bn in 2016. Enterprise Ireland sees further opportunity for growth and has taken the lead on the digital transition agenda in Ireland which has included the formation of the National BIM Council in June 2016".

Ms Donohoe continued, "Hosting 30 Enterprise Ireland clients at Digital Construction Week UK, Enterprise Ireland's aim is to showcase the innovative capabilities of Irish companies in the digital sector and market Ireland as a credible supply source of digital products, processes and services".